Resource Builder - is the most powerful full-featured resource editor for Windows.
Resource Builder stands as the premier solution for resource editing, making it the number one choice in the market.
Sick of resource file editing? Our Resource Builder is the ultimate solution! With user-friendly WYSIWYG editors for each resource type, it makes editing a breeze. Enjoy development and save time with Resource Builder!
Simplify and speed-up your development
Experience the ultimate resource editing solution with Resource Builder. Our user-friendly and intuitive interface streamlines the process, saving you valuable time. With powerful editors for all resource types, you can effortlessly edit resources in both resource and executable files. Benefit from our lightning-fast and precise RC compiler, and so much more. Why settle for anything less when you can have it all in one comprehensive package? Explore the overview of Resource Builder or check out our list of features for detailed information. Upgrade your resource editing game today!
Rest assured, Resource Builder is a one-of-a-kind resource editor that offers comprehensive Unicode support.
Resource Builder can create, edit and update resources in files with unlimited size.
OS: Windows 64bit
Trial: 30 days
Personal (update): US$ 59.00 (US$ 29.00)
Site License (update): US$ 1499.00 (US$ 999.00)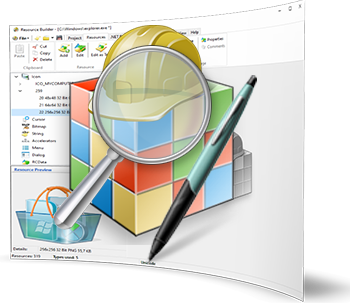 Pain free ability to edit resources
The article will help you learn about the main features of Resource Builder.
Using HTML resources to create an application's user interface.
We'll show you how to embed HTML resources into your applications and use them to create an HTML-based user interface.
I've been interested in your program for some time. I am installing the trial version every time I reinstall Windows. 🙂 In this way I've been able to track changes in Resource Builder from version 1.0 until now. I must say that you've made a great program!
Dejan Milojevic
I would like to tell you that I am very pleased with your product. It is a great tool that makes my daily work a lot easier!
Michael John Wittman
Resource Builder is one of the best programs in its class, a powerful solution for all resource-related tasks you need for the effective work.
3d2f.com Editors
I have to say it is a very useful tool and it fits in well with the Localisation Process I intended to implement here. It is simple and generally bug free and works well with all the basics. So far my experience with it is good and I would not have a problem in recommending it to other clients I have work for in the past.
Jayesh Patel
These are real reviews from real users. You can send us your review using our Contacts form.
Use our Forum to ask questions about Resource Builder or help others.


On Testimonials page you can read what other users think about Resource Builder